2017 AAPS Annual Meeting and Exposition
November 12, 2017

-

November 15, 2017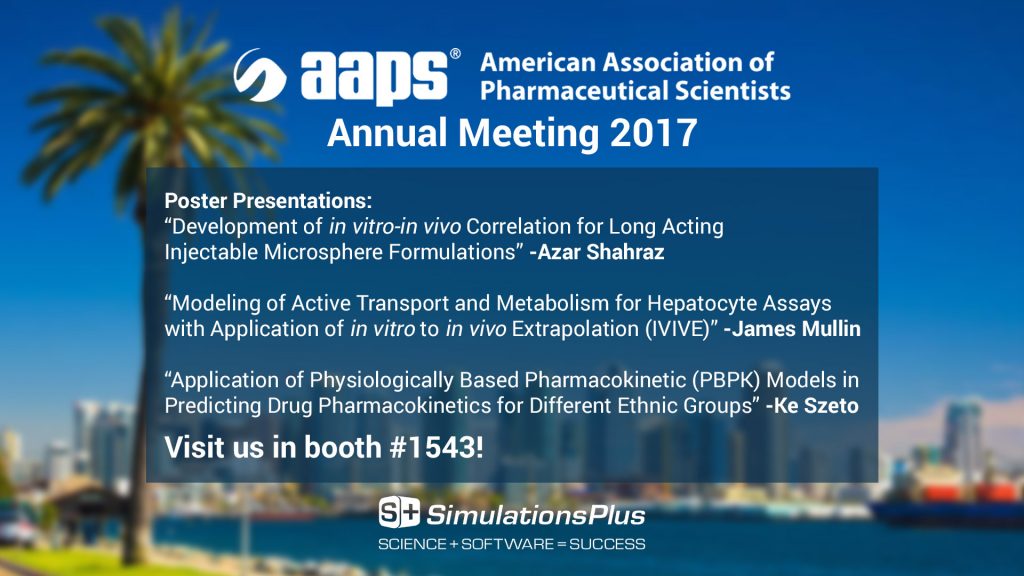 American Association of Pharmaceutical Scientist's Annual Meeting and Exposition
San Diego, CA
November 12-15
Yogesh Patel and Nikita Parab from Cognigen will be exhibiting in our booth #1543.
Development of In Vitro-In Vivo correlation for long acting Injectable Microsphere Formulations — poster presentaion by Azar Shahraz on Nov 14 @ 12pm.
Modeling of Active Transport and Metabolism for Hepatocyte Assays with Application of In Vitro to In Vivo Extrapolation (IVIVE) – Presented by James Mullin on Nov 14 @ 12pm.
Application of Physiologically Based Pharamacokinetic (PBPK) Models in Predicting Drug Pharmacokinetics for Different Ethnic Groups—Presented by Ke Szeto on Nov 14 @ 4pm.
Mechanistic Cellular Simulations for Suspended and Sandwich Culture Hepatocytes—Presented by Michael Bolger on Nov 15 @ 10:25am.
Divisional president of DILIsym Services Brett Howell will be hosting a talk on Quantitave Systems Toxicology Modeling of Drug-Induced Liver Injury in room #26 on Nov. 15.
https://www.aaps.org/annual-meeting-and-conferences/annual-meeting