2021 GMP Symposium
Two satellite sessions will be hosted by Lixoft.
Title:  Treatment individualization: improving interactions between industry and hospital
Title: Tumor Growth
A variety of models based on differential equations have been published to describe tumor size data. This workshop will give an overview of the most common ones and their inclusion in a modular library, and will show modeling examples on real data. It will consist of two parts. The first part will include an overview of the usual models for tumor growth, effect and delay of treatment, and their underlying assumptions, while the second part will examine the emergence of resistance and additional characteristics such as the angiogenesis and immune dynamics.
In this workshop, you will learn:
How to choose an appropriate tumor growth model for your data and adapt it
Good practices for parameter estimation, model diagnostics and simulations
How to combine tumor growth with PK measurements or time to event data
GMP Symposium Program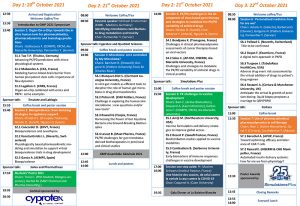 Registration is free but mandatory so register soon.  Registrations are on a first-come, first-served basis!