NCA, bioequivalence & beyond! Spring School with PKanalix™
March 22 @ 12:00 pm

-

March 24 @ 1:30 pm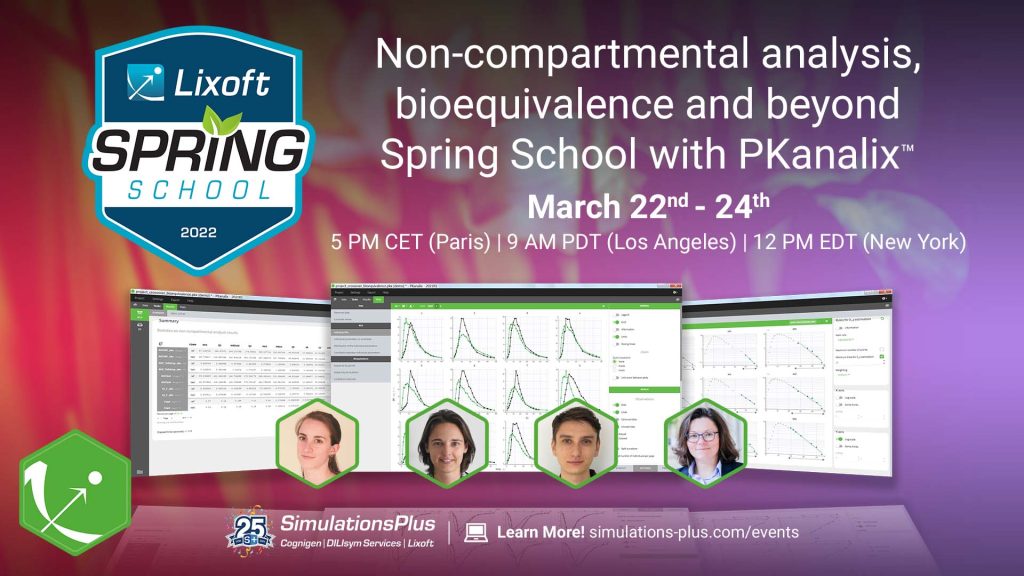 This new session is a "Special Topics" Spring School that will focus on the analysis of PK data using non-compartment analysis (NCA) and bioequivalence (BE) calculations. The fitting of compartmental models and the transition to population models will also be shown. The course is designed for scientists with none to intermediate knowledge of PKanalix. Our instructors will host hands-on exercises to do in between sessions.
Industry professionals, students, and doctoral/post-doctoral researchers will gain confidence in using PKanalix over the three, 1h30 sessions. You'll also learn how to make your PK analyses more exciting and efficient!
Registration is FREE and the course is completely online. Register today here.
Mar 22, 2022 5:00 PM Paris | 12:00 PM New York | 9:00 AM Los Angeles
Mar 23, 2022 5:00 PM Paris | 12:00 PM New York | 9:00 AM Los Angeles
Mar 24, 2022 5:00 PM Paris | 12:00 PM New York | 9:00 AM Los Angeles