Simulations Plus Annual Forum "Partner with the Good Guys" at PharmSci 360
November 5 @ 6:00 pm

-

9:00 pm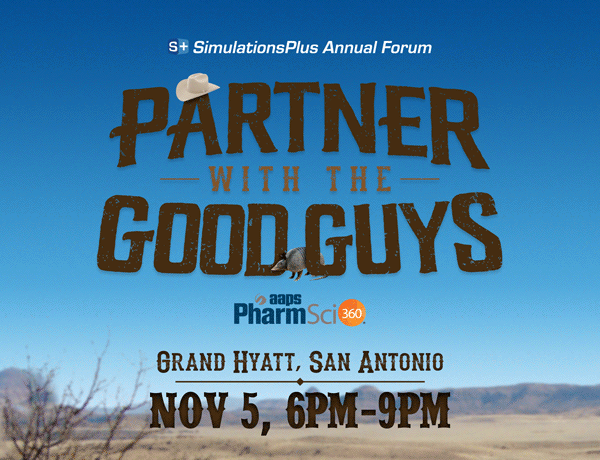 Simulations Plus Annual Forum "Partner with the Good Guys" at PharmSci 360
Bring your posse down to the Simulations Plus Saloon… Enjoy the best of Texas with food, drinks, armadillo racing, and honkytonk piano!
Hobnob with Sheriff Shawn O'Connor and his parcel of deputies who will foretell plans for the new frontiers in modeling and simulation. Get a sneak peek into the next generation of the GastroPlus® platform and more!
With amazing door prizes and raffles this event is not to be missed. Early-birds who RSVP by October 31st will earn (2) raffle tickets. Those who bring a trusted compadre can earn more chances to win.
See you in San Antonio this November!
Date: Tuesday, November 5th
Time: 6:00 – 9:00 PM
RSVP : arlene@simulations-plus.com