This Month In GastroPlus® Modeling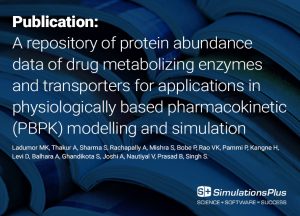 Stay up-to-date with conferences, scientific talks, webinars, workshops, and more.

Mainz, Germany
September 23- 27, 2019

Tokyo, Japan
September 30 – October 4, 2019

Orlando, Florida
October 19- 20, 2019

With over 1,000 members and growing…interact with your peers around the globe!*

Useful new paper on best practices for using PBPK in GP for FIH predictions: Physiologically Based Pharmacokinetic Modelling for First-In-Human Predictions: An Updated Model Building Strategy Illustrated with Challenging Industry Case Studies. Clin Pharmacokinet. 2019;58(6):727-746.

Physiologically Based Biopharmaceutics Modeling (PBBM) Group now on LinkedIn!

Are you attending ACoP10 in Orlando, FL this October? Mark your calendars now for (2) free pre-conference workshops.

Latest AAPS PharmSciTech article – In silico Tools at Early Stage of Pharmaceutical Development: Data Needs and Software Capabilities

GastroPlus User Group member Sheila Annie Peters and Hugues Dolgos' June publication in Clinical Pharmacokinetics

*note: must sign into LinkedIn and be a member of the GastroPlus User Group to review and contribute

New peer-reviewed journal publications citing various applications of GastroPlus software.