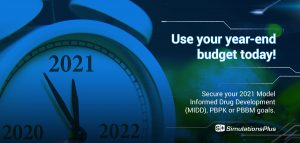 The coronavirus (COVID-19) global pandemic has highlighted the 'need for speed and safety' in drug development. GastroPlus® continues to provide researchers with key insight and the capability to:
evaluate repurposing existing drugs
predict drug-drug interactions
perform virtual bioequivalence assessment with a growing variety of dosing routes
In 2021, we are committed to expanding our collaborations to advance the science of drug development, reduce the time and cost of research, and improve patient wellness. With this commitment, we are extending an exclusive offer for training and regulatory advice and support at 2020 rates for use next year.
Join us and enable your team to expand their knowledge of model-informed drug development (MIDD), Physiologically Based Pharmacokinetic (PBPK), or Physiologically Based Biopharmaceutics Modeling with either five (5) or ten (10) hours of client support to apply towards focused tutorials or consulting.
Focused Training Tutorials can include:
Detailed sessions on the enhancements of the latest version of GastroPlus
Regulatory Advice & Support
GastroPlus with a special focus on DDIs
GastroPlus + ADMET Predictor – Bridging the GAP between Drug Design & PBPK
Advanced GastroPlus tutorials for DMPK & Clinical Pharmacology applications
Advanced GastroPlus tutorials for Pharmaceutical Development applications
Getting Started with GastroPlus – Onboarding the modeling & simulation platform in your organization
Technical review & mentoring on your PBPK or PBBM models with a modeling expert
Discover how our PBBM PBPK modeling software & experts can support your research and regulatory submissions today and beyond!
You can take advantage of this exclusive offer by clicking this link, and submitting the form for a quick turnaround. The offer expires on 12/30/2020.
Questions? Contact Dan O'Connor at dan@simulations-plus.com