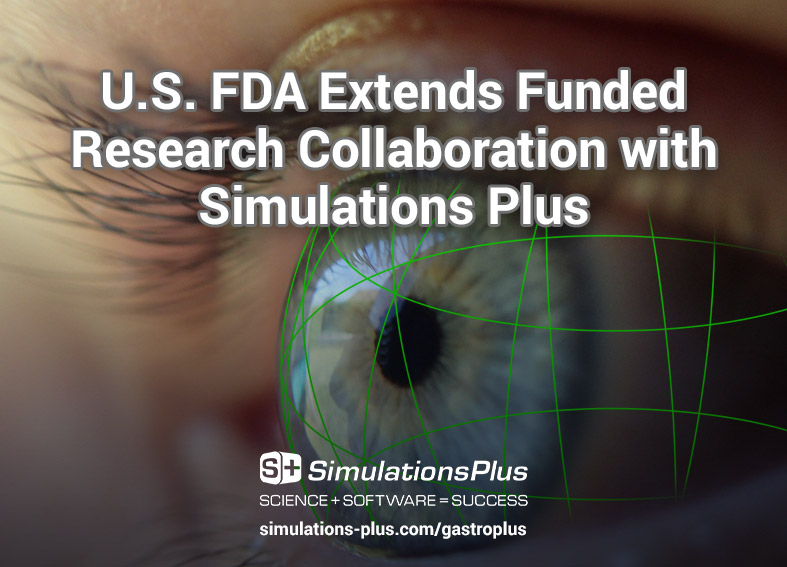 Lancaster, CA – Simulations Plus, Inc. (Nasdaq:SLP), the leading provider of modeling and simulation solutions for the pharmaceutical, biotechnology, chemicals, and consumer goods industries, today announced that it has entered into a one-year funded extension to its previous cooperative agreement (grant 1U01FD005211) with the U.S. Food and Drug Administration (FDA) to further develop and validate the mechanistic Ocular Compartmental Absorption and Transit (OCAT™) model in GastroPlus™.
Dr. Viera Lukacova, director – simulation sciences, said: "After the successful completion of tasks outlined in the initial three-year cooperative agreement, we are very pleased to have the opportunity to continue working with the FDA to incorporate additional functionality into our mechanistic ocular absorption model which will aid companies, both innovator and generic, as they design new treatments and products for various eye disorders. The model is already being utilized within the industry to support internal research and development activities, and we anticipate results from our technology will soon be helping to inform regulatory interactions."
John DiBella, president – Lancaster division, added: "This award funds additional development services and demonstrates the FDA's confidence that GastroPlus provides a sound basis for related drug and formulation characteristics for ocular dosage forms. The outcomes from this additional work will be integrated into the next versions of GastroPlus and will continue to be made available to clients in the $22 billion (and growing) ophthalmic drug market as an optional add-on module. We look forward to continued collaboration with the FDA on the next-generation ocular absorption modeling platform."
Views expressed in this press release do not necessarily reflect the official policies of the Department of Health and Human Services; nor does any mention of trade names, commercial practices, or organization imply endorsement by the United States Government.