ADMET Modeler™
What is ADMET Modeler™?
ADMET Modeler is a QSAR/QSPR model building module in ADMET Predictor®.  It automates the difficult and tedious process of making high quality predictive QSAR/QSPR models from experimental data sets. It works seamlessly with ADMET Predictor's descriptors as its inputs, and appends the selected final model back to ADMET Predictor as an additional predicted property.  The model building process was redesigned in ADMET Predictor 8.0 and includes a wizard for setting up model building parameters.
NEW! Multi-class (greater than 2) classification models.  The diagram below shows the confusion matrix for a 3 class ANNE model.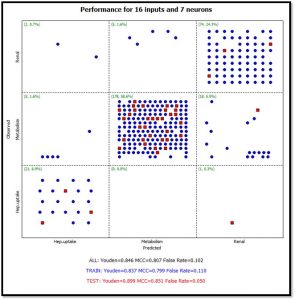 NEW! Performance plots can be colored by confidence.  In the example below, confidence estimates are colored from red (low confidence) to green (high confidence).  Also note that the confidence estimate for the compound is displayed in the lower right hand corner when a point in the plot is selected.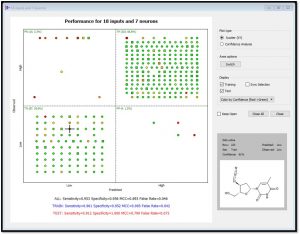 NEW! DELTA™ model approach is now automated
The user interface in ADMET Predictor was completely rewritten for version 8. In this webinar, we demonstrate the new tools available in ADMET Predictor 8 using examples from various data sets, e.g., BACE1 inhibitors.

Download Webinar

This poster was presented at the 2014 SOT meeting.  It describes where the OATP1b1 data originated and the cutoff value.  The model, including descriptors, is discussed.

Learn More