What is the
NEW!

 AIDD™ Module?

Drug design has typically focused on optimizing molecules for activity and, in most cases, a few simple ADME properties. While this process made some sense in the early days of in silico ADME, it does not consider what is ultimately important: will the molecule(s) you design be active to the target, have minimal toxicity risk, AND meet preclinical/ clinical PK requirements?
Drug Design… Meet PBPK!
The ADMET Predictor AIDD Module combines technologies in ways in which no other company has done. The combination of machine learning and
GastroPlus®
PBPK modeling, wrapped within proven generative chemistry methods, allows chemists and DMPK scientists to optimize molecules across multiple dimensions, including systemic exposure!
And now, starting in APX3, communication with 3rd-party software is also available. This unlocks incredible flexibility with the engine -utilize your 3D docking scores from tools like GLIDE, GOLD, AutoDock, or predictions from other tools, with our machine learning/PBPK models and risk liability scores as part of the optimization.
The AIDD Module integrates ADMET Predictor's top-ranked ADMET property prediction models and high throughput pharmacokinetic (HTPK) simulations with multi-objective compound optimization capabilities:
➤ Generative chemistry engine
➤ Advanced and customizable pruning rules
➤ Multi-objective compound selection based on a Pareto front
➤ Iterative cycles of optimization based on design criteria
Compound generation and evaluation against target profile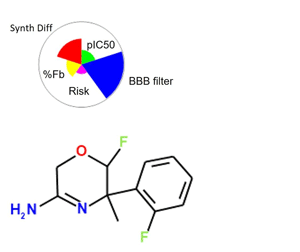 Taking advantage of these capabilities, AIDD can generate and evaluate up to 10 million molecules during an overnight run (8-core laptop computer), exploring a large portion of chemical space around the compound(s) or scaffold(s) of interest.
AIDD also empowers chemistry and DMPK teams to control which part(s) of the molecule may be altered as part of the optimization and which should be maintained. You can also specify positions where substitutions can be applied, and control the chemistry based on synthetic feasibility constraints or a-priori knowledge about the target.
A full suite of cheminformatics functionality is also included to provide you with the capabilities to visualize and analyze results from AIDD runs at any stage of the design process.
Best of all? The AIDD Module provides a holistic user experience built on top of the easy-to-use ADMET Predictor software. Nothing new to learn – only intuitive interpretation and interaction with the results is necessary.
#1-ranked machine learning ADMET property + #1-ranked PBPK models, wrapped in proven generative chemistry approaches… only in the AIDD Module.
Goal – design compounds that have high potency at the primary target...

Learn More

Panelist David Miller, VP of ADMET Cheminformatics will show some of the new features in APX.3, including details about a new REST API for deployment via Web services.

Learn More

Eric Jamois, Director of Business Development, will host a webinar on Wednesday, September 16th to introduce the new ADMET Predictor® 10 (APX) release.

Learn More

30% of synthesized molecules have measured activity which meet potency targets.

Learn More

There is a pressing need to improve the efficiency of drug development, and nowhere is that need more clear than in the case of neglected diseases...

Learn More

The World Health Organization has estimated that over 200 million people suffered from malaria in 2010 and that over 600,000 people died from it that year [1]. Growing problems with resistance to existing anti­…

Learn More

This article discusses theory behind the most important methods and recent successful applications of halogen-directed tinosporide, ligand-based methods use only ligand information...

Learn More

Computational methods are nowadays essential tools employed in the field of drug design.

Learn More

Driven by chemistry but increasingly guided by pharmacology and the clinical sciences, drug research has contributed more to the progress of medicine during the past century than any other scientific factor.

Learn More