MedChem Studio™
What is the MedChem Studio™ Module in ADMET Predictor®?
Two great programs, ADMET Predictor® and MedChem Studio™ have now been combined into one wonderful graphical user interface! The MedChem Studio Module, described below, contains tools for data visualization, compound clustering, high throughput screening analysis, lead identification and prioritization, de novo design, scaffold hopping, lead optimization, and much more!
Generate fingerprints (keys) using different methods including Extended-Connectivity Fingerprints (ECFPs) in order to elucidate SAR and visualize structure alerts.  One can easily identify keys that most correlate with a compound property.  The image below shows that the 115 molecules containing the highlighted fragment have higher PI3K pIC50 values.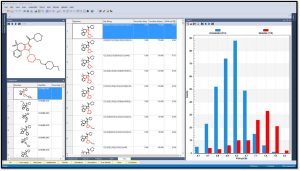 This video shows how MedChem Studio™ can be used to analyze percent inhibition data from a high-throughput screening experiment in order to identify candidates for further optimization.

Learn More

Following the success of our earlier NCE project, which focused on the design of antimalarial molecules, we sought to utilize our ADMET Design Suite™ to design novel compounds that inhibit both...

Learn More

This webinar discusses details of lead hopping and de novo design with MedChem Studio™, and demonstrates the software's ability to generate new virtual structures quickly and easily.

Watch Now

This webinar describes algorithms for the rapid and automatic extraction of Matched Molecular Pairs (MMPs) from large chemical data sets and for converting these pairs into structural transformation rules that...

Watch Now

This webinar by Dr. Robert Clark describes the in silico design, synthesis, and biological testing of novel antimalarial drug candidates generated by analysis of public HTS data.

Watch Now

The World Health Organization has estimated that over 200 million people suffered from malaria in 2010 and that over 600,000 people died from it that year [1]. Growing problems with resistance to existing anti­…

Learn More