Physicochemical & Biopharmaceutical (PCB)
What is the PCB Module?
ADMET Predictor's PCB Module contains models for physicochemical property prediction. Each model was built by Simulations Plus scientists using artificial neural network ensemble (ANNE) technology.  The data sets were highly curated in order to generate highly accurate models.  The data for our pKa model (S+pKa) was recently expanded in a collaboration with Bayer scientists. This resulted in more accurate predictions for a set of 16,000 compounds that were not used to train the model.  Our logP (S+logP) and aqueous solubility (S+Sw) models have been ranked number one in peer reviewed journal articles.1,2 The models in the PCB module are also available in the ADMET Predictor module of GastroPlus™ in order to perform PBPK simulations using in silico predicted properties.
Physicochemical property prediction
The image below lists the models in ADMET Predictor's PCB Module.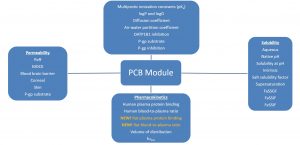 Rat plasma protein binding and blood-to-plasma ratio models were added in the ADMET Predictor version 8.5 release. Brief descriptions of the models are below.
1 J. Pharm. Sci. 2008, 98, 861.
2 a) Expert Opin. Drug Discov. 2006, 1, 31-52. b) Science of the Total Environment, 2013, 463-464, 781-789.