HTPK Simulation
What is the HTPK Simulation Module?
The HTPK (High-throughput pharmacokinetic) Simulation Module integrates the industry's #1-ranked mechanistic absorption/PBPK models with #1-ranked ADME property predictions to predict the following in vivo properties in rats or humans:
Fraction absorbed (Fa%)
Oral bioavailability (F%)
Volume of distribution (Vd)
Dose (D) needed to reach a user-specified plasma concentration (Ceff)
The algorithm uses our Advanced Compartmental Absorption and Transit (ACAT™) model to simulate dissolution, transit, and absorption in the GI tract.
Prediction of oral bioavailability requires intrinsic clearance in the liver.  This value can be obtained using our predicted rat or human liver microsomal clearance (CYP_RLM_CLint or CYP_HLM_CLint) models or clearances from in vitro experiments, e.g., liver microsomes or hepatocytes.  Estimation of the dose required to reach Ceff requires systemic clearance that can be predicted from our estimates of liver and kidney clearance or from a user input systemic clearance.  The module can be run at the command line in order to incorporate it into KNIME or PipelinePilot™.
NEW! Cmax, Tmax, and AUC columns are returned when one predicts %Fa and/or %Fb
NEW! Display of CPU time at different concentrations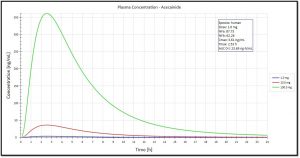 NEW! Parameter sensitivity analysis %Fa and %Fb vs. solubility and permeability can be created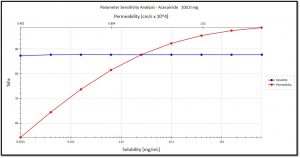 Below are more details on the output properties of the module.
While developing the Simulation Module [1] – an in silico tool for conducting PK simulations based on the Advanced Compartmental Absorption and Transit (ACAT™) model [2] – we have discovered a handful of...

Learn More