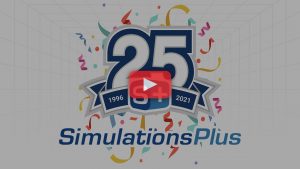 This month we celebrate our employees, clients, and technological milestones. Learn more about our commitments, core values, and guiding principles for a better tomorrow.
---
California
Simulations Plus
New AAPS Publication, "PBPK Modeling Approach to Predict the Behavior of Drugs Cleared by Kidney in Pregnant Subjects and Fetus" #OPENACCESS
Read about our Learning Services department & new PBPK Modeling & Simulation Courses for Fall 2021
---
New York
Cognigen
The highly acclaimed Introductory Workshop on Population PK Methods is now being offered in a virtual format over 5 half days.
We've been building analysis-ready datasets for pharmacometric modeling & simulation for more than 25 years. Read More.
---
France
Lixoft
With over 5,500 views on YouTube, subscribe to be notified when a new video is added!
---
North Carolina
DILIsym
RENAsym, a QST Model to Predict Drug-Induced Kidney Injury
Join the RENAsym Consortium
---
Copyright © 2021 Simulations Plus, All rights reserved.
Simulations Plus, Inc. Corporate Headquarters
42505 10th Street West
Lancaster, CA 93534
Telephone: +1-661-723-7723
Cognigen Corporation, a Simulations Plus company
1780 Wehrle Drive, Suite 110
Buffalo, NY 14221-7000
Telephone: +1-716-633-3463
DILIsym Services, a Simulations Plus company
Six Davis Drive
PO Box 12317
Research Triangle Park, NC 27709
Telephone: +1-919-558-1323
Lixoft, a Simulations Plus company
8 rue de la Renaissance Batiment D
92160 Antony, France
Telephone: +33 9 72 53 91 80