Have you registered for MIDD+ yet?
Wednesday, February 15th & Thursday, February 16th, 2023
8 AM – 12 PM Pacific Standard Time | 11 AM – 3 PM Eastern Standard Time |
1 – 5 PM Brasilia Time | 5 – 9 PM Central European Time
Expand your skill set with the latest in model-informed drug discovery & compound development strategies. Customize your experience by choosing the tracks and sessions that YOU want to focus on. Tracks include Discovery+ Pre-Clinical, Clinical, Real-World Impact & Regulatory Decision-Making, and Model-Informed Compound Development. Experience innovative solutions for all stages of drug development from discovery through post-approval. This conference is free of charge, and all are invited to register, those with experience in modeling and simulation will highly benefit from our array of posters and presentations.  Full agenda coming soon, register today to reserve your spot.
---
Novice & Advanced Users
Webinar & Workshops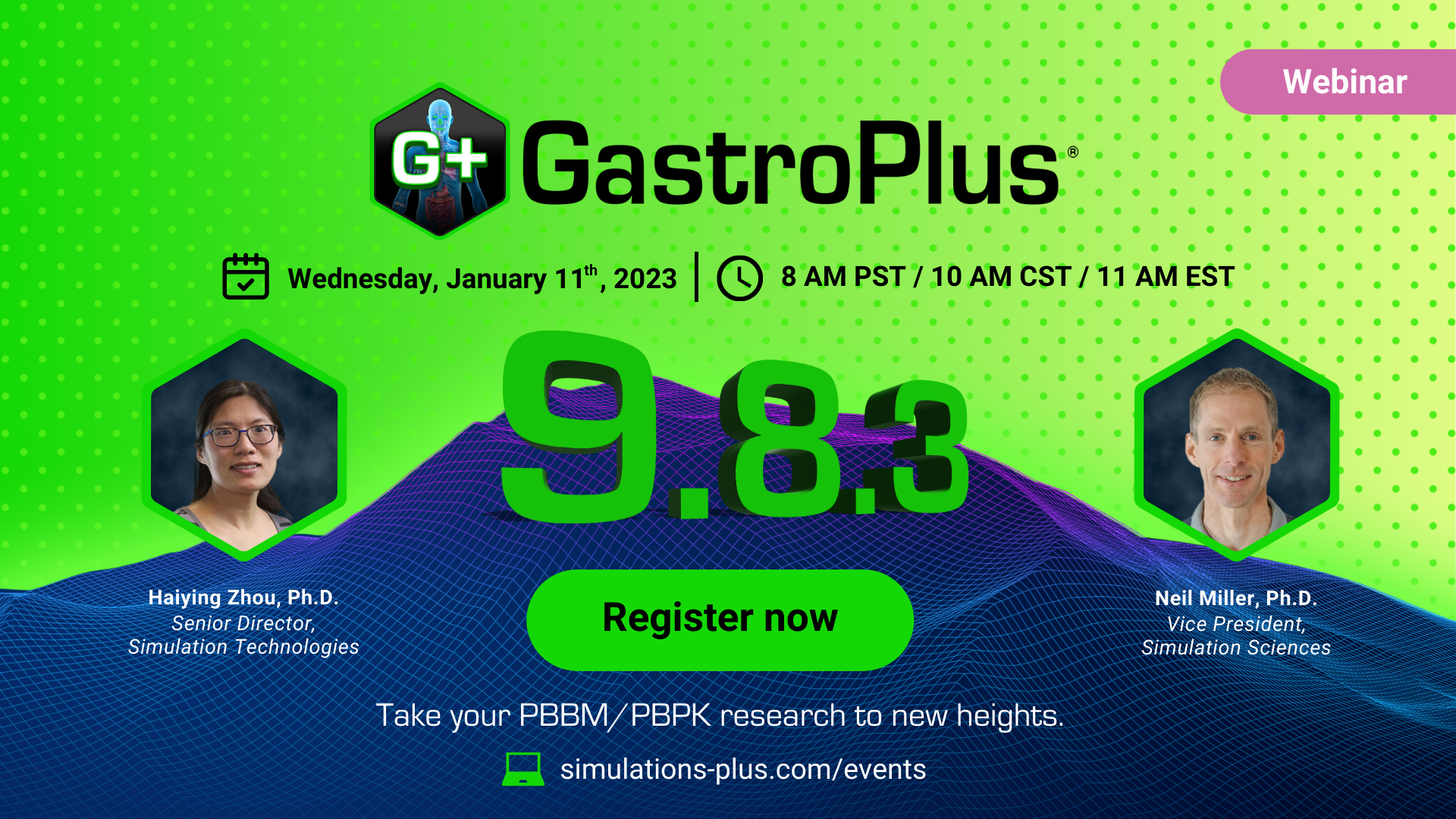 GastroPlus 9.8.3 Webinar – Learn about the new and improved functionality to drive advances to PBBM/PBPK applications from discovery through post-approval.
Virtual Learning Workshops
In-Person Workshops
---
We're Growing
New Year, New Career
Awarded Best Company for Women in 2022 by Comparably
We are honored to be recognized in the top 5% of companies for women particularly as we continue to foster an environment that supports growth and advancement opportunities for our female employees. Beyond that, we are thrilled to also be recognized as a choice employer and to have earned an A+ culture score.
This recognition validates the work we do to support our female colleagues and all our employees. Read more here.
NOW HIRING
If you are looking for an employer with a modern leadership culture, great benefits, and opportunities to grow, check out our Career Center for a complete list of current openings.
Join our Team! Open positions:
---
Meet Us In Person
Conferences
---
Grow With Us
Expanding our Team
Get to Know Our Scientists' Video series
Welcoming our Newest Team Members:
Partnerships + Collaborations
Copyright © 2023 Simulations Plus, All rights reserved.
Simulations Plus, Inc. Corporate Headquarters
42505 10th Street West
Lancaster, CA 93534
Telephone: +1-661-723-7723
Cognigen, a Simulations Plus division
500 Seneca Street, Suite 600
Buffalo, NY 14204
Telephone: +1-716-633-3463
DILIsym Services, a Simulations Plus division
Six Davis Drive
PO Box 12317
Research Triangle Park, NC 27709
Telephone: +1-984 444-8305
Lixoft, a Simulations Plus division
8 rue de la Renaissance Batiment D
92160 Antony, France
Telephone: +33 9 72 53 91 80